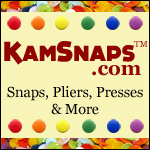 Many Cloth diapering moms like myself have some well loved BumGenius 3.0 diapers on which the aplix is getting worn out. These durable diapers have plenty of wear left otherwise, so what to do?Thanks to KAMSnaps, I have found my answer to that question! Let me just show you what KAMSnaps can help you do! I'd never worked with snaps before in my life, but found out they're actually pretty easy if you have the right tools!

I received the below set of pliers from

KAMSnaps

with an awl for making the holes that the snaps go into and a screw driver for changing out the die. The metal piece to the right of the awl is an extra top die for larger snaps, and the 3 round black pieces on the far right are the bottom die for different size snaps.


One of the awesome things about

KAMSnaps

is that they carry snaps in all the BumGenius colors as well as G Diaper colors, and Fabrite PUL! As I mentioned, I'm converting my BumGenius 3.0 in Grasshopper, so KAMSnaps sent me the grasshopper colored snaps!

The snap pieces on the far left and right are caps. The second from the left is the stud (male), and the next to last is the socket (female).

I just love it that KAMSnaps are exclusive sellers of engraved Ooga Booga snaps! They have a bunch of other designs of engraved snaps as well! Here's a close up of the oh so popular Ooga Booga!
The size 20 snaps are the ones typically used for diapers. The HG pliers come with a different size bottom die in, so the first thing I had to do was change that out. It's easy to tell which bottom die you need by just placing one of the caps in the die. It should fit perfectly like this:


Following the instructions from KAMSnaps web site, I used the provided screw driver to remove one die and put in the size I needed. It was very simple!


I had never applied snaps before, but I found a link to
this
video at the bottom of KAMSnaps
instructions for snap pliers
that shows how to use these HG pliers. Since I'd never done it before, I practiced on an old cloth wipe. It worked well, so I'll show you what I learned as we continue with the conversion of the BumGenius. Here we go...
First you have to remove the aplix. For this you'll need a seam ripper (pictured below), or an exacto knife or something like that.
First I ripped some of the top seams to loosen it up.
Then I could peel back the aplix and see the seams really well to rip them. As a novice sewer, this is something I've had a lot of practice at! :) You have to really take your time and be careful. Never pull hard on the fabric or aplix. You want to leave as little evidence of the former seam as possible.
Once the front strip of aplix is off, it's time to remove the tabs.
I found it helpful to cut the top off to reveal the seam for easy ripping.


Again, rip some top seams first and then start ripping underneath.
Finally, the aplix is all off and we can focus on snaps.
On

KAMSnaps blog

, you can find a

snap placement template

compliments of Bella of Musings of an Organic Mama Squirrel. This saved me a lot of trouble as I did not have to make my own template. You don't have to use this one of course. You may want fewer snaps more spaced out.

First, cut out the template.
Then, use the awl to poke holes through the dots.
Decide where to place the snaps. I decided to have the middle of the top row of snaps about an inch from the top of the diaper.



Tape the template down, and use a writing utensil to mark the diaper through the holes in the template.


After removing the template, take the awl, and poke a hole through each dot. Be careful not to puncture the inner liner of the diaper.

Next take one of the un-engraved caps, since it will be on the inside of the diaper and not visible, and poke it up through the first hole.


Next, you will place a socket over the protruding part of the cap.
Take the pliers and make sure the cap is completely centered in the bottom (black) die and press down hard. It's really important that the snap be centered, which is a bit challenging as you'll be feeling through the liner for this part. In the following picture my hand is awkwardly placed for the sake of taking the picture.
To make sure it is sufficiently pressed afterward, you can take a stud and put it into the socket. It should make a snapping noise.
Rinse and repeat for each snap until you're finished!


Next, cut out, hole punch, and tape your template for the tabs. I chose to put 4 snaps to make it toddler proof later on.
Use the awl to punch the holes in the fabric.
This time you will use your engraved caps as this is the part that will show! Place the cap through, top to bottom, and this time place a stud over the protruding part of the cap.


Center the snap between the pliers and press.




Be mindful of how the engraved image will look on baby. I did not think about that and put them upside down. No big deal to me, but I know to look out for that next time!



Conversion complete:
This experience has opened up so many crafting possibilities for me! On KAMSnaps

tutorial

page, you can see lots of other ideas. I saw there a tutorial for adding snaps to prefold diapers and adapted it a little to make my prefolds easy to snap using the angel wing fold. It gave me even more ideas for a project I'm planning!



KAMSnaps is offering a $25 gift certificate to one lucky reader in the U.S. or Canada!



How to win it:

One mandatory entry:

Visit KAMSnaps and come back and leave me a comment telling me something you learned about their products.



Additional Entries:

(Leave a separate comment for each entry. Include your email address if it is not clearly visible on your profile.)

1. Follow
KAMSnaps Blog
.

2. Like KAMSnaps on

Facebook

.

3. Follow KAMSnaps on

twitter

.

4. Sign up for KAMSnaps mailing list (left column at KAMSnaps.com)


5. Follow The Cheap and Choosy via Google Friend Connect.
6. Follow me on
Twitter
.
7. Share about this giveaway on Facebook and leave me a comment with the link.
8. Grab my button (
3 entries
) and leave a link to where I can find it in your comment.
9. Blog about this giveaway. (
5 entries
)
10. Tweet about this giveaway and leave the link to your tweet in your comment. You can use the re-tweet button on bottom left! (Up to two entries per day)
11. Enter another one of
my giveaways
. (One entry per giveaway entered)
12. Subscribe to The Cheap and Choosy via email. (Right hand sidebar)
13. Leave a relevant comment on any of my non-giveaway posts, and leave a comment here telling me with the title of the post. (One entry per post commented on.)
*14. Enter
KAMSnaps Going to the Dogs Giveaway Marathon
. You can earn an extra entry in this giveaway per giveaway entered in KAMSnaps Marathon for the duration of this giveaway! *UPDATED 7/29/2010
U.S. and Canada only. This giveaway is open until August 26 at 12:00 a .m.
The winner will be chosen using a random number generator. I will email the winner, who will have 48 hours to respond. If winner does not respond within 48 hours, another winner will be chosen. I will post the winner when the selection has been made and confirmed by the recipient.
I received the product reviewed free of charge. I am not being
compensated in any way for this review or giveaway. The opinions expressed are completely my own! You can see my full disclosure here.
This tutorial is partying with:

Lucky Linky Tuesday
All Things Related
Trendy TreeHouse Creative Share
Whatever Goes Wednesday
Hoo's Got Talent?
Strut Your Stuff Thursday
Transformation Thursday
Show off Your Stuff Thursday at Fireflies and Jellybeans